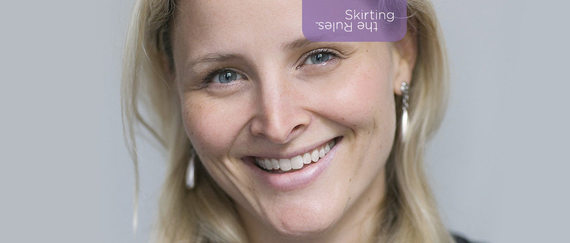 It's the question many women have asked themselves: Can I truly "have it all?" For years, women have felt like they have had to choose between climbing the career ladder and actively raising a family. And if they don't choose, they often feel burned out trying to find the elusive "work-life balance."
In fact, more than half of all working parents say the balancing act is difficult, and those who do are more likely to say that parenting is stressful, and less likely to find it always enjoyable and rewarding, according to the Pew Research Center. As of 2012, there were more than 31 million mothers with children under the age of 18 in the United States alone. About 70 percent of them were working moms, according to the U.S. Department of Labor. That's more than 21 million women trying to find enough hours in the day to get their jobs done–as both professionals and mothers.
After becoming a mother herself, journalist Katharine Zaleski realized that many workplace cultures are set up for men, and that women should be valued for their productivity rather than the number of hours they log at the office. In 2014, Katharine left journalism to team up with technology expert Milena Berry to found PowertoFly, a company dedicated to matching women with tech-related jobs all over the world. Now more than 1,000 companies–including brands such as Hearst, Buzzfeed and Time, Inc.–are using PowertoFly to find diverse female talent to grow their teams.
Skirting the Rules caught up with Katherine at a Chantelle Art of Being Salon in Manhattan to learn about how one of the greatest successes of PowertoFly is that it gives women a third option, connecting them with jobs that allow them to work from home–if they choose to.
The number of employees who telecommute, or work from a home office while communicating with co-workers via technology, has increased to 37 percent in the United States, up from only 9 percent in 1995. In the digital age, there are all kinds of ways for employees to stay connected. Remote desktop applications, video chatting programs like Skype or Google Hangout, cloud storage, and team messaging apps like Slack all help telecommuters to get the job done, regardless of where they are. According to Gallup, the majority of Americans agree that employees who telecommute, either during the workday or during evenings and weekends, are just as productive as employees who come in to the office.
After working with so many mothers through PowertoFly, where 50 percent of staff members are moms, Katharine believes that moms make for some of the most productive employees. "Moms work hard to meet deadlines because they have a powerful motivation–they want to be sure they can make dinner, pick a child up from school, and yes, get to the gym for themselves," she says in a Fortune.com article.
According to the U.S. Census Bureau, over 80 percent of women will become mothers by the time they reach their forties. And if 70 percent of them are working, that adds up to a lot of moms for whom typical office culture just doesn't work. By changing the norm now to make telecommuting a more common practice, PowertoFly could be helping generations of women to come.
Telecommuting isn't just a trend for mothers either. According to the Harvard Business Review, younger workers are seeking more flexible working conditions in general, with the freedom to work when and where they want. And businesses are benefitting too, with companies offering remote options reporting up to 10 percent higher revenues within the past year.
With trends like this, it's no wonder PowertoFly is taking off around the world. "We've been able to build [it] into the fastest-growing platform where companies find women who want to join their inclusive cultures," Katharine says. And where women can find companies that will allow them to have the kind of flexibility a working mother needs.
Reporting by Jessica Demarest